We're only a few days into December and I'm already completely over Santa, all eight of his fictitious reindeer and his first cousin Frosty. Our nation's Christmas culture is so secularized it's enough to drive any God-fearing person mad.
Especially since this will be the first Christmas my impressionable three year old actually understands what's happening. Despite our best efforts to be intentional about explaining the real meaning of Christmas - the coming of Jesus into the world - it's hard to break through all the cultural noise about the "Christmas spirit," Santa, and of course gifts. You should know there have already been several meltdowns in our house over gifts. On more than one occasion, Lincoln has asked for his gifts only to discover - to his horror, might I add - that it's not Christmas yet. *face palm*.
All that to say that I am overjoyed - relieved even - that Advent is finally here.
If you're a Christ-follower and you've never celebrated Advent, let me just tell you, you're missing out. What is it, you ask? A four-week celebration leading up to Christmas that invites us to experience the awe of Christ's birth while anticipating His return. This year, it officially kicks off on Dec. 3 (although some Advent studies began on Dec. 1) so if you're reading this and thinking you may want to join in - you're just in time :-)
It is Advent that redeems - or should I say reclaims - Christmas for me, especially in our society that has turned a once scared holiday reserved for adoration, meditation, anticipation and worship into ... well, something different altogether. It is Advent that restores my awe and helps my heart prepare Him room.
If you and your family have never done an Advent study or devotional, I highly recommend it. There are a bunch of free resources you can use online and many options for purchase as well. See below for a few of my personal favorites. Also, special thanks to my #MomLife community for making me aware of some of these!
100% Free Advent Resources
"Good News of Great Joy - Daily Advent Readings" By John Piper
25 brief devotionals you can read or listen to via podcast. My husband and I did this devotional together a couple of years ago and really enjoyed it. The addition of the podcast makes it perfect for listening on the go if you're busy.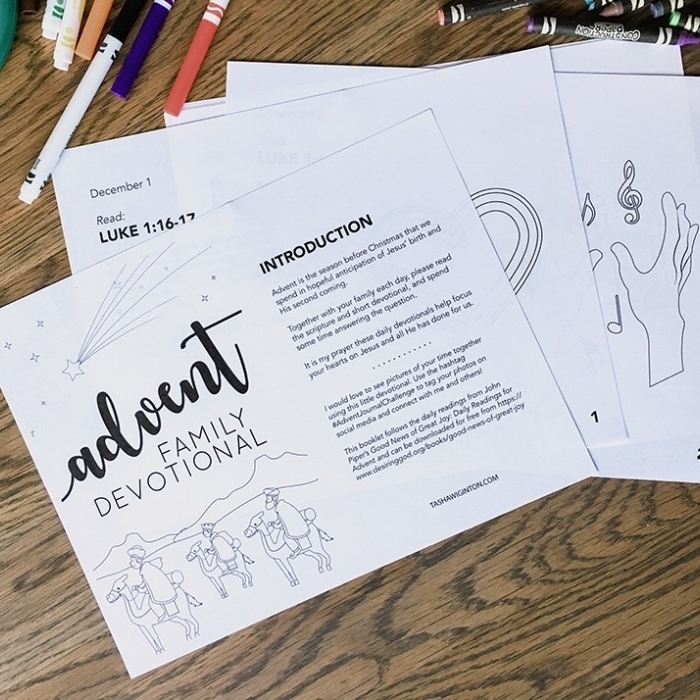 "Advent Devotional Coloring Book"
By Tasha Wiginton
A kids' companion to John Piper's devotional (above), featuring a kid-friendly, Gospel-focused devotion, application and coloring activity so you and your children can follow along in the study together. Sign up on Tasha's site to receive the free digital file. Somewhat related: Tasha is also doing an Advent Bible Journaling Challenge. Follow along using the hashtag #AdventJournalChallenge.
23 days of Scripture readings and devotions for you and your kids. Each day kids receive a new object or Bible character to create their own Nativity scene. Sign up to receive the free, digital download. The site also has instructions for making your own Advent wreath.
Costs a Few Bucks, But Totally Worth It
"The Wonder of the Greatest Gift," by Ann Voskamp
This year, we're trying out this family devotional and so far, I couldn't be more thrilled. It is a suppppper adorable pop-up Christmas tree that comes with a daily reading and an ornament your kids can hang on the tree each day. It's only $20 on Amazon (Prime for the win), everything you need comes included and it FOLDS UP so there's no mess (even with ornaments hanging - I tried!) Seriously, you're a genius for this, Ann. We love you.
Advent Studies
by She Reads Truth
So I won't lie, these are a little on the pricier side if you're buying for the whole family, but they are really well done studies. There are different study guides for men ($24) and women ($32) with similar themes and fun activities for kids to follow along. Plus you get lots of cool extras in the study books - Scripture cards, maps, recipes and the like. Scroll all the way down on the website to find the family bundles. I know a couple of families who have done this in the past and really enjoyed it. If you try it + like it, let me know!
Whatever you do to celebrate the Advent/Christmas season, don't forget to put Jesus at the center of it all. The good news of the Gospel is the true joy of Christmas. Happy Advent to you and yours!